Welcome to the Great Sunflower Project!
The largest citizen science project focused on pollinators.
Welcome to Spring 2015! To say thank you for all you have done for pollinators, we have a present for you, Bee Identification Cards! You can download them by logging in and then clicking here. We hope you will use them to get ready for 2015!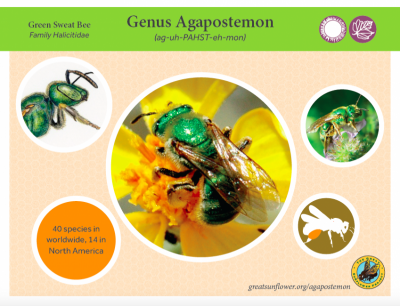 Please join us now if you live in a climate where pollinators are flying or start planning your 2015 garden and counts! You can register here. Basic instructions can be found in the Quick start guide. If you are concerned about using neonicotinoid pesticides in your gardens, here is a link to a list of the products that you can buy in many garden shops that contain neonicotinoid pesticides.
Join our Safe Gardens for Pollinators program . Plant a Lemon Queen variety sunflower and help identify the effects of pesticides on pollinators.
Join our Pollinator Friendly Plants program. Help identify the critical plants that support pollinators and regions where they thrive. Contribute a pollinator count from the plants in your yard or favorite green spaces.
Take the Great Pollinator Habitat Challenge starting in May. Learn to evaluate and improve habitat for pollinators.
As always, thanks for participating!

Slider images by Hartmut Wisch (Sleeping male Melissodes bees), and Gretchen LeBuhn (school sign and hummingbird)